Coronavirus: We've extended our free trial from 7-days to 3-months, to help companies track the sickness absence of their staff during this period. There is absolutely NO obligation to continue after your trial, and we'll help you export your data.
The incredibly simple, employee holiday and sickness tracker
The Holiday Tracker is an easy-to-use staff leave planner that you can access using your web browser or mobile device.
If you're currently using paper forms and spreadsheets, then let us show you a better way to manage your employees' annual leave.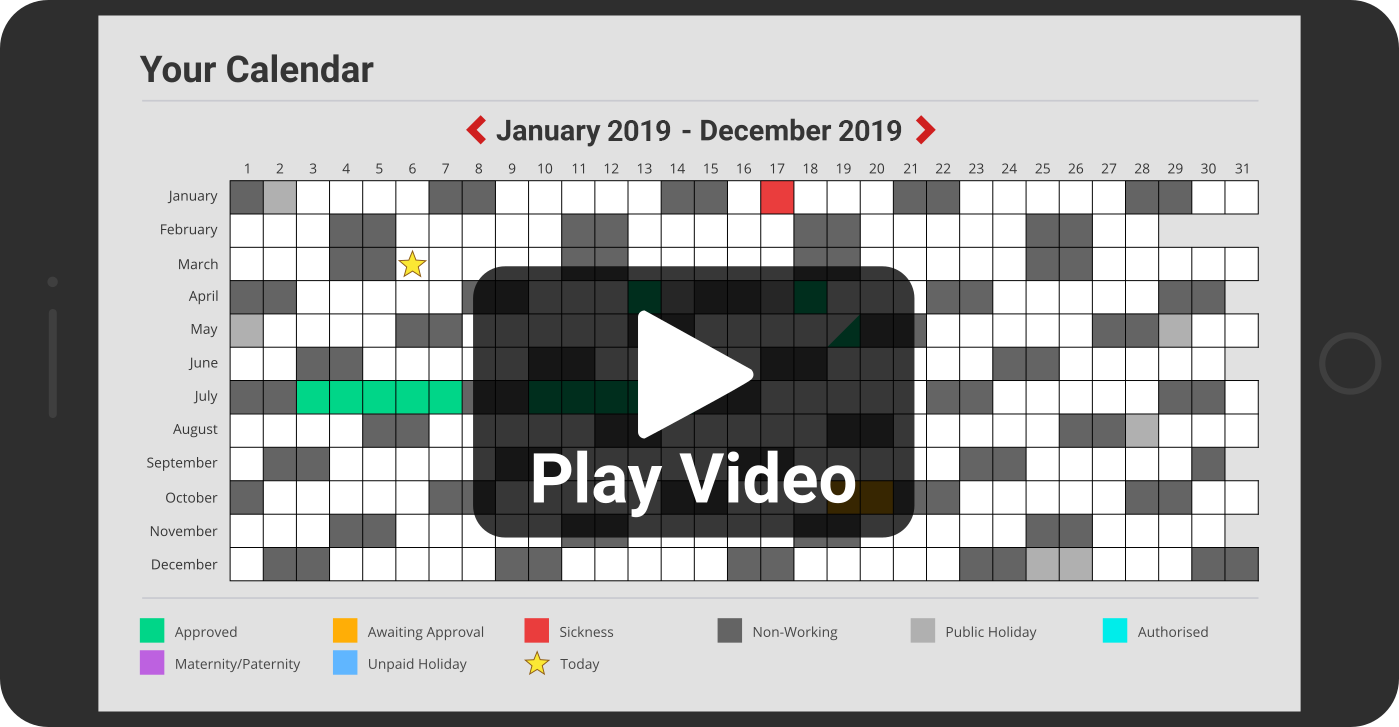 Make a Holiday Request in Three Clicks
Log in anytime, anywhere, on any device.
Click the squares on your calendar to request a holiday.
Easy. Visual. Intuitive.
Two BIG Reasons to Use The Holiday Tracker:
1
Simplified Holiday Requests
The Holiday Tracker takes the hassle out of holiday requests. Less emails, no paper chains, just three simple clicks. It greatly reduces the amount of time wasted in handling holiday requests.
2
Reduced Sick Leave
83% of our customers have seen a reduction in sick leave in the first year of using The Holiday Tracker. How? Simply showing employees how many sick days they've taken can have a massive effect on behaviour.
Incredibly Simple to Use
We spend an insane amount of time ensuring the system is as simple as possible to use.
9am-5pm Support
Give us a call or drop us an email, we're there for you when you need us.
Go Mobile
Login from anywhere in the world 24/7 - Optimised for laptops, tablets and smartphones.
Safe and Secure
Hosted in Microsoft's secure UK data centres - your data is safe with us.
Read our GDPR document.
Pro-Rata Calculations
No need to calculate entitlement - enter the work patterns and it'll do the maths automatically.
Reduce Sickness
83% of our customers have experienced a reduction in sick leave in their first year.
Pricing
£1.50
PER EMPLOYEE PER MONTH
We bill you monthly and you can cancel at any time - there is no fixed contract length.
Plus you can sign-up for a 7 day free trial before you even commit to anything.
Start Your Free Trial